You have the power to make a difference in our community. Tempe Leadership values and welcomes all individuals who want to be actively involved in making a difference in Tempe.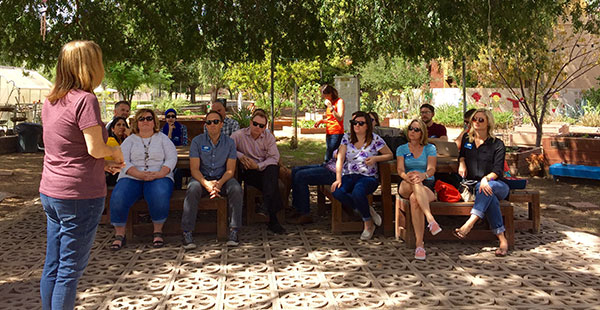 Why Join Tempe Leadership?
By participating, you are investing in your community as well as your personal and professional growth. Plus, you have the opportunity to develop friendships that will last a lifetime. If you would like to connect with other active community members, positively influence your community, and enhance your leadership capacity, Tempe Leadership is for you. What it means to you:
Meet and work with other people who are enthusiastic about making positive contributions to our community.
Learn more about Tempe and be exposed to a broad range of viewpoints.
Get connected, make lasting relationships, and have fun!
Application and Selection
The class 33 Application period is closed, thank you for your submissions.
Applicants must meet two qualifications:
Live and/or work in Tempe
Tempe Chamber of Commerce
P.O. Box 28500
Tempe, AZ 85285-8500
Phone (480) 736-4281
Fax (480) 966-5365
Selected applicants participate in an oral interview. Approximately 20 individuals, with demonstrated community commitment, are selected for class participation.
Class members are notified of their selection by the end of May.
Tuition
Tuition for 2017-2018 is $800. This fee contributes towards meals, materials, retreat and class expenses.
Financial Assistance
Financial assistance up to 50 percent of the tuition fee is available. Awards are based on financial need. If you are interested in financial assistance, please fill out a
Financial Aid Form and submit it with your Tempe Leadership Application.
Class Commitment
Class members are expected to participate fully in the entire program in order to qualify for graduation. Generally, participation requires 2 days per month.
Participants are encouraged to secure their employer's support.
Interview dates are scheduled for mid May.
2017-2018 Class Issue Dates
Friday Sept 15 and Sat Sept 16 – Orientation
Friday, Sept 22
Friday, Oct 6
Friday, Oct 20
Friday, Nov 3
Friday, Nov 17
Friday, Dec 1
Friday, Dec 15
Friday, Jan 5
Friday, Jan 19
Friday, Feb 2
Friday, Feb 16
Friday, Mar 2
Saturday, Mar 3
Friday, Mar 16
Friday, Mar 30
Friday, Apr 13
Friday, Apr 27
Friday, May 4 – The Alumni Experience
Graduates of the Tempe Leadership program become lifelong members of a unique alumni group devoted to community service.