Welcome
We invite you to attend two upcoming events. 
February 9, 2020, Class XXXV will be hosting their fundraiser for their class project. Learn more about the class and the project here: https://www.tempeleadership.org/current-class/  Join us for a fun morning of playing golf while raising funds to paint and resurface Escalante's basketball court to promote positive use of the park and create an impact in the Escalante neighborhood.
Register here: Putt for P.E.A.C.E.
February 12, 2020, Conversations in Leadership. Join us for an evening with former Arizona Attorney General, Grant Woods. Attendees will have the opportunity to hear first-hand accounts of topics such as Mr. Woods personal path to leadership, challenges of leadership, and strategies for success.
Register here: Conversations in Leadership
What is Tempe Leadership?
Since 1985, more than 800 diverse, dedicated individuals have participated in the Tempe Leadership Program. As a program of and in partnership with the Tempe Chamber of Commerce Foundation, our focus is to bring together like-minded individuals in the community to engage and challenge one another, learn more about the ins and outs of Tempe and, most importantly, make a real difference in our community. Tempe Leadership alumni are well represented on local boards and commissions, routinely serve elected office, and volunteer time and energy to the community – together creating lasting legacies.
Tempe Leadership strives to:
Create a strong, resilient web of community leaders
Develop and mentor individuals to fulfill formal community leadership roles
Seek positive solutions to real community problems
Strengthen our community for now and in future generations
Support the development of youth leaders
Involve others in our community in volunteer, charitable, and civic efforts
Build an inclusive, connected, and vital hometown
Tempe Leadership THANKS all of our sponsors who help us maintain the program and keep it affordable for our participants.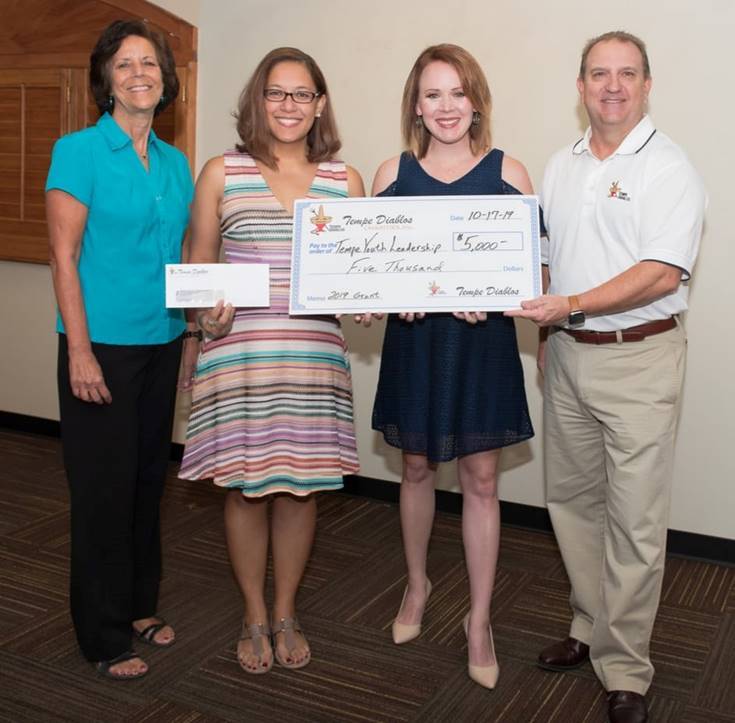 Thank you to the Tempe Diablos for their generous donation to Tempe Youth Leadership.
With their support high school students can participate in the leadership program at no cost to them.
Thanks to our sponsors of our 35th Anniversary Celebration! 
Presenting Sponsor: LAAHF (Loved Accepted And Heard Foundation)/Tempe Leadership Class 30
Landings Credit Union
United Brokers Group Real Estate
 Philanthropy Outsource
R&K Professional Enterprises
Ring of Fire Sponsors: Tempe Leadership Classes 23, 25, 27, 30, 32, 33 and 34 
Silverman Law Offices
Jay Robinette