Class 18 Continues to Impress!
Tempe Youth Leadership had a great day at their Tempe Police Issue Day on January 14, 2017. Chief Sylvia Moir opened the day by providing the students with background on her own life story-how she decided to become a police officer-and the responsibilities that she and others have. The most important message she gave to the students was that authority does not make you a leader; you have to earn leadership and respect.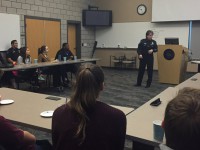 The youth had an active and engaging day-from visiting the room where calls for 9-1-1 come in, the property room and all the evidence that is collected, and touring the DUI enforcement vehicles (including motorcycles!). They had a great time with the SWAT team where they got to put on gear and go into the SWAT vehicle-and worked with crime scene investigators on a mock crime scene.
Many thanks to the Tempe Police Department for an informative and engaging day for our youth. They learned a lot-and the police department was impressed with them as well.
Commander Mike Pooley (TL Class XXX) sent the following comment:
They were absolutely impressive with behavior, questions and character. It gave me a very comforting feeling of our future leaders. Thank you for letting us have that time with them, and I hope they hear how impressed all of us at the PD were with them.
The support for Tempe Youth Leadership from our community has been outstanding. As the program has grown over the years, so has the ambition of the committee. The current goal is to establish a scholarship program for TYL graduates. If you or someone you know are able to help with a donation, the funds will be used to help college bound graduates with education costs.