Tempe Leadership is pleased to share the success of its first ever People's Supper experience in March 2018. Our Tempe Leadership Alumni and greater community responded so enthusiastically
To prove that a group of thoughtful people who differ from one another — politically, culturally, racially, and generationally — can sit down over a shared meal and engage in a meaningful conversation together.
And meaningful it was.  Hosted by Tempe Leadership Board members Linda Ritland and Melia Dunn, a collection of 10 caring citizens, many of whom started the dinner as strangers, listened, shared and learned throughout the evening.  The conversations were respectful while lively and revealing in ways that ended to connection and compassion.
While we couldn't possibly recap the entire evening, two significant insights were worthy to share:
To always remember PEOPLE over products and

To notice the unnoticed
Since we were limited in the number of guests to our supper, we reluctantly had to ask several interested Tempe Leadership community members to remain patiently on a waiting list. Moving forward, we are eager to arrange more People's Supper experiences.  If this concept intrigues you, please contact Tempe Leadership to learn more about getting involved as a co-host or to reserve a seat at a future supper!  The Tempe Leadership Board and Alumni committee are eager to keep these gatherings going and growing.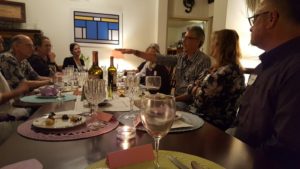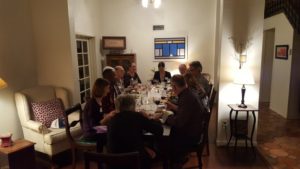 If you would like to participate in the next People's Suppers send us an email for more information! – [email protected]